Stage versions of popular movies are becoming more and more popular, but why are they becoming so popular? The cost of creating a Hollywood movie is sky-rocketing and the risk of losing millions if the movie doesn't make it at the box office is getting bigger and bigger, so movie makers are looking to branch out into the world of musical theatre productions in order to give themselves a better chance of success.
Let's have a look at some of the big Hollywood movies which have made it onto the big stage.
Shrek
This American computer animated fantasy comedy film first hit our screens in 2001 and was based around the 1990 fairy tale picture book Shrek. It was this movie that helped put makers, Dreamworks on par with other competitors at the top of the animated movie game, such as Pixar. Dreamworks attempted to turn their very successful movie into a musical, after a very successful try out in Seattle they made in onto Broadway in December 2008 and went onto be a worldwide success, featuring in many different countries including Israel, Spain and Australia as well as the London West End.
Lion King
The Lion King movie was released on 7th October 1994 by Walt Disney Pictures; the 90 minute movie was an instant big hit which saw it take 1.8 million US dollars on its opening weekend across 66 different cinema screens.
The Lion King Musical made its first appearance at a local theatre in Minneapolis, Minnesota before hitting the big stage on Broadway at the New Amsterdam Theatre on November 13th 1997. The show hot London's West End in October 1999 and is still running to this day.
Legally Blonde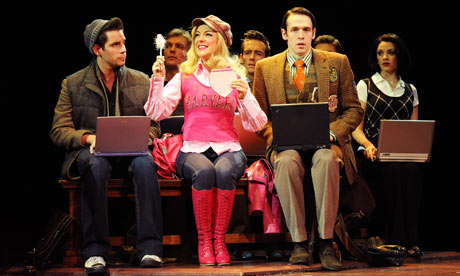 Chick flick comedy Legally Blonde first came to our screens in October 2001 and on its opening weekend made a staggering 20 million US dollars. The movie tells the story of Elle Woods, a tall legged, very attractive blonde, who leaves her glamorous party life behind to enrol on a Law course at Harvard university to win back her ex-boyfriend.
Like the other Hollywood hits that turned musical, Legally Blonde also had trial shows in California before making it to Broadway in April 2007. We then saw the award winning production in the West End on January 13th 2010.
The show was nominated for five Olivier Awards and won three of them.
Spider Man
Spiderman is one of those movies that you wouldn't think you would ever see on a stage, partly due to the fact Spiderman spends the best part of his day hanging around and swinging between skyscrapers.
The movie hit our screens in June 2002 and the musical Spider-Man Return of the Dark made its first stage appearance in November 2010 The official release was delayed several times due to negative reviews from critics and audiences. After Director Julie Taymore left the production several scenes were reproduced by Co-director Philip William McKinley and new previews began on 12th May 2011 with the official opening on June 14th 2011.
Other Hollywood Movies turned into Musical Some of the other great Hollywood movies which made it onto the big stage includes The Producers, Mary Poppins, Beauty and the Beast, The Little Mermaid, Hairspray, Billy Elliot, Batman, Glee and Grease.
Many of these shows are still going very strong now and will probably continue to do so in the coming years.
Hollywood Movies head to the stage guest article was provided on behalf of Show and Stay; helping you to experience the great London theatre break packages.
Posted by
Editor
on Sep 19, 2011. Filed under
Entertainment
. You can follow any responses to this entry through the
RSS
. You can leave a response or trackback to this entry